Welcome
To the 1996 Mystic Cobra Registry and Owner Association
1996 Mystic Cobra
Who Are We
We are the Official Registry and Owners Group For the 1996 Ford Mustang Mystic Cobra. We have the most extensive collection of information about the 1996 Ford Mustang SVT Mystic Cobra with over 1900 of the 2000 produced documented by VIN and Mystic Build number, Our owners association consists of over 900 (and growing) Mystic Owners Past and Present and Future who work to protect and preserve the history of these rare Mustangs.  Make sure to check out the links below!
We have spent years gathering information by searching Facebook, Instagram, Twitter, Mustang Forums, old ebay listings as well as building working relationships with Ford Performance, John Clor, John Coletti, Kevin Marti and other big names in the Ford Mustang community to bring this information together and separate fact from fiction.  We have been able to secure Press Releases, Sales Data, Owner Records, Dealer Documents and other historical facts about the one year only LF paint coded 1996 Mystic Cobra. As we grow this site we plan to add copies of all this great information. Our registry is fully interactive so anyone can check out stock to heavily modified 1996 Mystic Cobras. Click on Mystics 1-2000 to see the Cars! 
If you have a Mystic question we have your answer! Feel free to stop over on our Facebook page or Shoot us an Email here. If you are a Mystic Owner past or present Please make sure we have your info! We are always looking for data even if you sold your car long ago you can still help us in building the registry. If you worked for Ford and have some inside knowledge or anything please reach out as well. We are always looking for new info!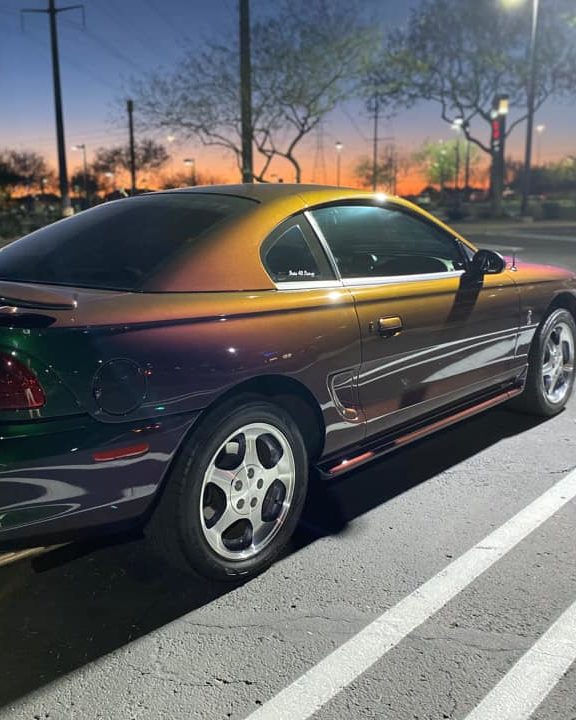 If you think seeing one is neat wait till you see them lined up!