A mystery solved or not…
 Since mid year 1995 Ford started promoting the 1996 Mystic Cobra.
"Ford calls the color Mystic and will put it on 2,000 1996 Mustang Cobra Coupes – no convertibles – then quit using the color, to make Mystic Cobras keepsakes."  – USA Today February 1996
This is confirmed by Kevin Marti of Marti Reports the go to source on Ford statistics.
Marti Auto
If a Mystic owner is to order a Marti Report it shows their car is 1 of 1999.
Now if originally purchased a Mystic Cobra you were sent a welcome package with a certificate and letter from Ford's SVT Division Stating your car is xxxx of 2000 Mystic Cobras produced. For those who have lost thier original or owners who have purchased a Mystic used without it have been able to purchase this as well from
Ford Show Parts
As long as I can remember 20 plus years now this has been an argument among Mustang fans. From possible to off the wall I have heard them all and even had a few thoughts of my own. These included. That the 1995 Horse of Different Color car a pre Mystic give away car was included in the count. Ford kept one so technically it didn't exist, Then there is the #1 car theory Mystic #1 was actually the press car that did the auto shows etc. Now #1 we know for a fact was actually painted months before the rest of the cars and actually was painted a slightly different formula and shading. Well after its "tour" it was sent back to corporate to be "disposed" of. Well it was disposed of sort of it ended up with the corporate fleet and auctioned off. Its full story is a chapter in itself. Anyway it was thought maybe Ford had already wrote it off when they submitted the paperwork for official production numbers and missed that it actually was sold instead of destroyed. Then there is the car # 2000 was never actually built thought.
Around 2019 while searching for Mystics and owners to invite to join. I find a Facebook post of a nursing home in Ohio that had just held a car show. Its First Place car was a 1996 Mystic Cobra the last one produced. One photo showed a partial license plate missing one digit. Using some detective work and trial and error I was able to get a VIN for this supposed last Mystic. At the time Ford would only give out the Mystic # if you bought the package. The Mystic community quickly donated funds to buy the paperwork. Sure enough a few weeks later that car was confirmed as #2000!
Now armed with the proof #1 and #2000 existed my next stop was to contact Kevin Marti the man selling "Officially Licensed Ford Merchandise" with 1999 instead of 2000! Honestly I thought Kevin would have brushed me off, I mean here's a man who is the go to source for Ford records ( he actually knows more then Ford! They threw out their records pre 80's Kevin acquired them and started a business telling people about their cars). Kevin was the complete opposite he actually helped. First he confirmed #1 was in the system and then confirmed #2000. So he said that meant a car between them didn't exist. He had a handful of possibilities how one might not exist cancelled orders or a  car meeting its demise between being built and being delivered to its dealership. Using the info from our registry we worked together. First we cut the list in half I gave him a VIN around car #1000 he was able to see it was a problem with Mystic number in the bottom half by continuously cutting the list we narrowed it down to a car between #1927-#1937.
Over the past few years I was able to fill in some of those blanks. Recently Kevin and I started working on it again. Ford has changed their policy in the last few years and have been now confirming Mystics with Mystic number for free. Though they would prefer if you bought the packet.  One of the VINs I recently spoke with Ford about comes back to #1928. Kevin said on his end it shows it as black and not Mystic he also sees that there is a $701 refund issued to the selling dealer from Ford when the car was sold (that's supposedly the dealer cost for Mystics remember it was a $815 retail option originally)
Next was confirm #1928 was real. I ran the car through
badvin.org
, then a Carfax. Car does exist great!! Further reading car was reported stolen 1/01/2004! Never Recovered!! Of course now there is no way to find photo evidence of the door sticker! I reached out to the NCIB (National Insurance Crime Bureau). (Pretty much think DNA database for stolen cars.)  I wanted to verify it was never recovered and see if they had access to the police report. Years of hunting Mystics I have learned there is 3 colors that Mystics often get mistaken on insurance, police and registration reports as Black, Green or Purple. Now if they had the color listed as green or purple then we would know it was painted Mystic most likely, black was a 50/50. Of course they didn't have any other info and they seemed suspicious of me calling about a active stolen car from 19 years ago. I explained the whole thing but they have my name and number so I may be getting a call from someone in law enforcement.
Next I reached out to a friend at a Ford dealership. I asked him to run an Oasis report ( Pretty much think dealership to dealership vehicle history). Car comes up as Oynx Black 1996 Cobra originally sold in Daytona Florida. Had some warranty work done etc. back when new. I decided I needed something in writing from Ford Performance (SVT) that says the VIN I had was indeed #1928. I shoot them off an email! The email I get back says that VIN is a black car! My head is spinning!! I sitting at my desk saying I swear to God, when I called in March they told me it was #1928! I keep scratch paper on my desk and I find the sheet I was using back when I originally called about that VIN. Sure enough it's written there The full VIN the Cobra number and Mystic Number!! I immediately write back asking if something was changed in their database in the last 3 weeks!
Since I'm sitting there waiting I said screw it I'm calling Ford Performance, I get one of Fords guys on the phone give him the VIN and his response! That's Mystic Cobra #1928. Then says wait! There's a note KM says this car is actually black and that a refund of $701 was issued to the dealership. KM must be Kevin Marti he told them what we found! Ha. I wasn't losing my mind!  I did receive an e-mail from Ford Performance acknowledging the issue and that #1928 never was actually Mystic
So there ya go there were 1999 Mystic Cobras Produced in 1996  Car #1928 Never actually existed.
So this of course as left me with a few questions!
What is the story with #1928  Was it just a clerical error?,  Did it miss the paint line?, Was it painted and damaged and repainted before it left the factory? Did the door sticker say LF or UA for a the paint code?
Unfortunately over 25 years have passed I doubt anyone remembers this car who worked at Ford or even the original dealership. The car being stolen and missing for 19 years only adds more interest to what happened!
LETTER FROM FORD SVT STATING A CAR IN XXXX OF 2000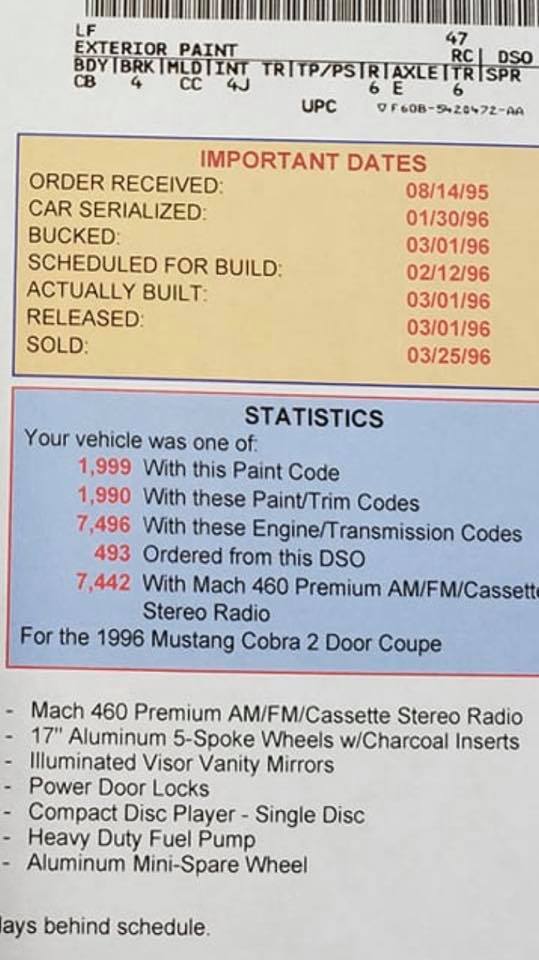 A SUMMARY OF MYSTIC DATA FROM A MARTI REPORT
LETTER FROM FORD PERFORMANCE (SVT) INFO CENTER CONFIRMING OUR FIND